Ever wonder about the safeguards your child's school puts in place for online activities? Many schools have rules when it comes to web blocking for all devices on school grounds and school-issued computers sent home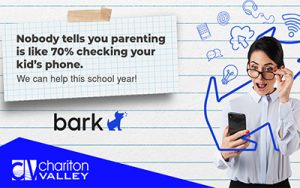 with children.
According to the American Association of School Librarians (AASL), 98% of schools are now filtering all website content available to students. This can look different depending on the school, but most schools use software to block potentially offensive content while others take a more manual approach by supervising students while they work in the classroom.
At Chariton Valley, we want to make sure you stay in the know about your children's internet safety no matter where they are. So, we are going to break down some questions.
Why do schools block websites?
In 2000, Congress passed the Children's Internet Protection Act (CIPA) that placed certain restrictions on schools and libraries receiving internet services through the E-rate program. This program provides affordable internet services to schools and libraries in need. The act requires these schools to block websites containing specific types of content on all computers accessible by minors.
CIPA also requires schools to follow other guidelines, including monitoring student activity while they're actively using school or library computers. Schools not using the E-rate program may also decide to block websites on devices. In addition to CIPA, some states have regulations that their schools have to follow regarding website blocking.
The goal of these rules and restrictions is to protect kids from harmful and distracting content on the internet.
School is a place where kids should be learning. While the internet is a useful tool, it also brings countless dangers. Aside from danger, the internet can be distracting for students, making it more difficult for teachers to keep students' attention.
There has been some debate about whether or not schools should be blocking certain websites. The leading argument against blocking websites is that it is a form of censorship, which could prevent kids from fully forming their own beliefs and ideas.
While there is some validity to this argument, it doesn't seem to outweigh the potential damage exposure to harmful websites may cause.
What websites do most schools block?
Besides inappropriate and harmful websites, schools tend to block popular sites and apps kids may be tempted to visit. Some examples include:
TikTok
Twitter
Hulu
Amazon Prime
Facebook
Netflix
Spotify
YouTube
Instagram
Discord
There are thousands more that schools may restrict. Some schools block entire categories of content, taking away the need for human analysis of individual websites.
Why block websites at home?
If kids are willing to push the boundaries of internet browsing at school, how much more likely are they to do so in the comfort of their homes?
As you know, kids are vulnerable and impressionable. The internet gives them access to lots of adult content; therefore, it's important to have internet rules in place.
These rules will be different for every family. There are many things to consider when making your household's rules. It's a little easier to decide what's appropriate and what's not for young kids. However, they are going to want more online freedom as they get older. Sometimes, giving more online freedom may be the right decision, but give it some thought. For example, is your child easily distracted? Will the internet only add to their distraction? Are they sensitive to bullying and the opinion of others on social media? Can you trust they won't share personal information with strangers they meet online? Maybe they have a developmental disability that will prevent them from understanding the consequences of certain online activities.
It's hard parenting in the digital world, but the good news is, you don't have to do it alone! There are many helpful resources available.
What is the simple way to block websites on phones, tablets and computers?
You can use add-on extensions for Chrome or Firefox to block individual websites on any computer or mobile device. However, it is definitely time-consuming to figure out which websites to restrict and then block them one by one.
The faster and simpler solution is Bark, an online monitoring service that helps families set healthy boundaries around online activity and keeps parents informed. With Bark, you can block websites and apps by category and set screen time schedules for when your child can access the internet on their devices.
Bark also:
monitors text, email and social media messages and activity.
provides alerts when it detects potential issues.
helps you keep track of your on-the-go child with location sharing.
It's more than parental controls. Bark is life changing peace of mind and available to Chariton Valley customers and noncustomers. To learn more or sign up, click here or contact us.