Simplified business solutions tie together your business needs
Advanced HPBX system integrated with your network and staff providing superior HD call quality, video conferencing and mobile phone applications that tie your business with customers.
Solutions That Deliver What Your Business Demands
Businesses everywhere are adopting IP communications. As many as two thirds of small and medium businesses say they would like to switch from conventional voice to IP services in the next two years.
Feature-Rich Solutions
Benefit from a feature rich platform including voicemail to email, mobility feature, auto attendant and music on hold, just to name a few!
Low Up-Front Costs
There are no costly layouts, additional equipment purchases or complicated start up procedures. Businesses utilizing hosted solutions never have to worry about software updates or hardware maintenance.
Seamless Platform
Connect multiple locations and remote and mobile workers into a single feature rich platform.
Grow Your Business
With SHOELACE Hosted PBX, Chariton Valley is delivering a best-in-class phone system that allows you to buy only what you need. We take care of all the details – phones, equipment, installation, training, and ongoing service – so you can focus on your business.
Move Your Business Into The Future With Your Choice Of Plans
Professional
Unlimited Incoming and Outgoing Calling (Domestic)
Music On Hold
CommPortal Dashboard
Incoming Call Manager
Line Presence
Call Transfer
Advanced Voicemail
Desk Phone
MaX UC Mobile & Desktop
MaX UC Meeting
Premium
Unlimited Incoming and Outgoing Calling (Domestic)
Music On Hold
CommPortal Dashboard
Incoming Call Manager
Line Presence
Call Transfer
Advanced Voicemail
Desk Phone
MaX UC Mobile & Desktop
Standard
Unlimited Incoming and Outgoing Calling (Domestic)
Music On Hold
CommPortal Dashboard
Incoming Call Manager
Line Presence
Call Transfer
Advanced Voicemail
Desk Phone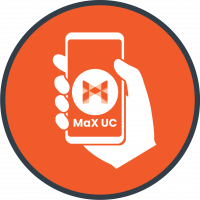 Mobile Plan
Unlimited Incoming and Outgoing Calling (Domestic)
Music On Hold
CommPortal Dashboard
Line Presence
Call Transfer
Advanced Voicemail
MaX UC Mobile & Desktop