Chariton Valley has many convenient and simple bill pay options
Pay Online  (https://billnet.cvalley.net/eaccount/Login)
View bill & payment history
One-time payment with Debit card, Pre-Paid card, Credit card, or check
Sign up for Automatic Bank Draft
Sign up for E-Bill
Submit a trouble ticket
CV ebill App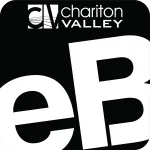 View Bill
View Payment History
Submit Payment
View directory
Submit a trouble ticket
Pay By Phone  (Account number & Pin)
Secure payment over the phone
Allows you to store a payment method
Allows you to set up a recurring payment method
No additional fee
Why is Chariton Valley discontinuing cash payments?
The main reasons we are discontinuing cash payments is because of safety and security of our employees, and the continued health and well-being of not only our employees, but our members and customers. Our majority of our customers prefer more convenient ways of paying. Electronic forms of payment also help keep our costs to operate lower and therefore able to keep prices comparable and reasonable.
 What are the benefits?
As a way to keep costs to a minimum and not require passing on fees to customers and members, we are simplifying accounting. Manual-based accounting processes are also prone to human error, making it harder to maintain accurate recordkeeping.
Allows for customer to ensure a faster & easier payment process. Electronic forms of payment get your payment posted immediately. Cash and Checks take at least a day or two to process.
Reduces risk and improves payment security. While bills and coins may feel more secure than exchanging funds digitally, this feeling can be misleading. Accepting cashless payments can actually help to keep money safer.
Customers now see cash as unclean and unwelcome, due to germ-laden bills and coins.
There are risks associated with keeping cash on hand, including an increased chance of theft, externally and internally. Any business that accepts cash is more susceptible to robbery. Outside of theft, there's also the risk of cash or checks simply getting lost or damaged in a natural disaster such as a fire or flood.
Due to advances in technology and cybersecurity, such as built-in fraud protection and easy payment tracking, credit cards are a safer payment option than ever before. In addition to credit cards, there are a variety of secure options for accepting mobile payments, including mobile wallets and payment apps. To maximize security, it's best to choose a cashless payment method that is well known and respected.