Hunting season is right around the corner. Dedicated hunters with gear in hand will soon brave cold, frosty mornings, trekking to the perfect spot to exercise not only their skills but also their patience.
If you're an avid hunter, I'm sure you have already decided on a hunting location, procured most of that hunting gear and even scheduled your time off from work. With all the anticipation and preparation, it can be really frustrating when you don't succeed in seizing your prey.
Now, what if I told you there is something that could potentially make for more successful hunts? My guess is that you'd be interested. The Arlo Go Mobile HD Security Camera makes the perfect hunting companion. It easily sees what you might not by positioning it as a trail camera.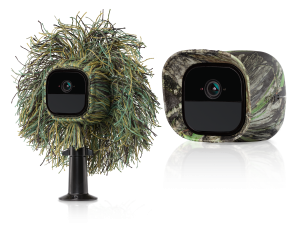 For example, use the Arlo Go to:
Monitor wildlife during the day and even at night
Determine the ideal time to hunt prey
See prey before they approach
Scout potential hunting areas
Monitor your hunting location for trespassers
So, how does it work? Glad you asked. It uses a mobile connection. That's right; no wires are needed. With Chariton Valley's 4G LTE nationwide coverage and the free Arlo Go app, available for mobile and the web, you can remotely see what the camera sees, adding convenience to your monitoring.
In addition, the Arlo Go is virtually impervious to weather and provides immediate notifications of noise or movement. A few of its other notable features include:
Accommodation for a SD card
Back and forth audio
Night vision that turns on automatically
Vibrant high definition video quality
Complimentary storage of recordings from seven days past in the cloud
A durable mount that is simple to relocate
Plus, Chariton Valley offers accessories you can add to your Arlo Go. A few examples include the solar charging panel that can power up your Arlo Go for continual use and the camouflage and ghillie skin set that provides the Arlo Go the perfect concealment.
There are many indoor and outdoor uses for the Arlo Go, and hunting is just one. You can also use it to monitor your home, property or business. It comes in handy when camping or on a trip, and the list goes on.
If you're hunting for something to add to your existing gear, you should consider the Arlo Go. It can take your hunting experience from four points to eight, and it doesn't cost a lot of bucks! (See what I did there?) To get your Arlo Go, contact Chariton Valley. And, if you need a smartphone or a wireless plan to pair with it, we can help with that, too!