The Emergency Broadband Benefit is an FCC program to help households struggling to pay for internet service during the pandemic. This new benefit will connect eligible households to jobs, critical healthcare services, and virtual classrooms.
About the Emergency Broadband Benefit
The Emergency Broadband Benefit will provide a discount of up to $50 per month towards broadband service for eligible households. Eligible households can also receive a one-time discount of up to $100 to purchase a laptop, desktop computer, or tablet from participating providers if they contribute $10-$50 toward the purchase price.
The Emergency Broadband Benefit is limited to one monthly service discount and one device discount per household.
Who Is Eligible for the Emergency Broadband Benefit Program?
A household is eligible if one member of the household: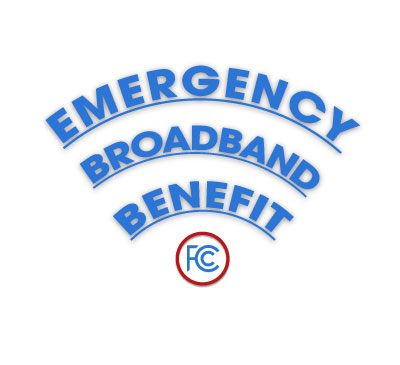 Qualifies for the Lifeline program;
Receives benefits under the free and reduced-price school lunch program or the school breakfast program, including through the USDA Community Eligibility Provision, or did so in the 2019-2020 school year;
Received a Federal Pell Grant during the current award year;
Experienced a substantial loss of income since February 29, 2020 and the household had a total income in 2020 below $99,000 for single filers and $198,000 for joint filers; or
Meets the eligibility criteria for a participating providers' existing low-income or COVID-19 program.
When Can I Sign Up for the Benefit?
The program has been authorized by the FCC, but the start date has not yet been established. The FCC is working to make the benefit available as quickly as possible.
Check out the Broadband Benefit Consumer FAQ for more information about the benefit and please continue to check this page for program updates.
Consumer FAQ for Emergency Broadband Benefit
Do I receive the funds directly each month?
No, the Emergency Broadband Benefit provides a monthly discount on broadband service of up to $50 per eligible household. Chariton Valley will receive the funds directly from the Emergency Broadband Benefit program.
Can I apply for the Emergency Broadband Benefit if I have a past due balance with Chariton Valley?
Yes, eligible consumers with a past due balance or a balance in collections are eligible for the benefit.
Can I sign up for the Emergency Broadband Benefit if I am already a customer or if I was a customer in the past?
Yes, the benefit is available to eligible new, prior and existing customers of Chariton Valley.
Can my roommate and I each get a monthly discount?
The Emergency Broadband Benefit is limited to one monthly service discount per household, which is defined as any individual or group of individuals who are living together at the same address and share income and expenses.
Can I receive both the Emergency Broadband Benefit and Lifeline benefits at the same time?
Yes. You can also combine these benefits with other state and local benefits where available. They can be applied to the same qualifying service or separately to a Lifeline service and an Emergency Broadband Benefit service with the same or different providers. For example, an eligible household could have a Lifeline-supported mobile phone service and a separate home broadband service that is supported through the Emergency Broadband Benefit.
I live in a multi-unit dwelling (for example, an apartment building) and we pay the property manager / landlord a monthly fee for our internet. Can I get the Emergency Broadband Benefit?
Yes. If you qualify for the Emergency Broadband Benefit, talk to your property manager/landlord and ask that they work with Chariton Valley to learn more about the benefits that might be available to you and other eligible residents.
This order is a great step to close the broadband gap in rural America, and Chariton Valley looks forward to continuing to provide premier services to enhance opportunities for rural communities.