Our CV GigaRouter Lease service introduces an enterprise grade Wi-Fi router. With CV GigaRouter and Chariton Valley internet service, we will activate Wi-Fi service through the CV GigaRouter in your home. This router is more robust which means it has a stronger signal allowing for a faster speed (throughput) and a wider coverage area (range.) It is important that we provide a great internet experience and the GigaRouter enables us to deliver that experience.
CV GigaRouter Lease ensures your wireless home network (Wi-Fi) and the inside wiring and jacks in your home that run your Phone, Internet and Video service will stay in proper working condition. If any of the Phone or Internet equipment supplied by Chariton Valley stops working as expected, we will troubleshoot and repair or replace the equipment, providing you peace of mind.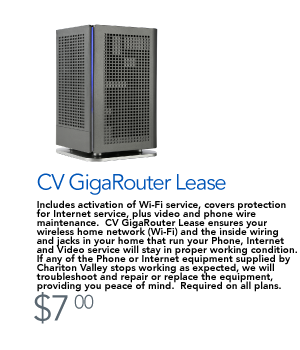 Benefits Of CV GigaRouter Lease
• Includes enterprise grade router
• Chariton Valley takes care of any service issues
• Network optimization by professional installer
• Performance management by certified IT specialists
• Optimized Wi-Fi experience
• Convenient mobile app available for easy management of Wi-Fi experience
• Ability to accommodate visitors on a guest network
• GigaRouter will always be kept up-to-date
• Future proof router – capable of up to 1 Gbps
Parental Control – Time Block Access to Internet
Through the app, Parents have the ability to control who is on the internet and for how long they have access.