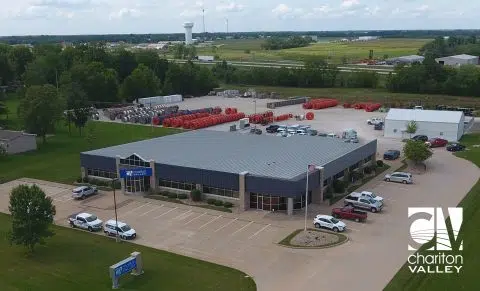 Chariton Valley provides state-of-the-art telecommunications services to businesses and residents in Northeast Missouri. Chariton Valley is leading the state and much of the nation with the offering of fiber optic network to the premise of its subscribers. With over 70 years of experience, Chariton Valley's goal is to keep you in touch, logged on, entertained and communicating without complications at an affordable rate. "Keeping You Connected"…connected to each other and connected to the world around you.
Vision Statement
Chariton Valley's vision is to enhance opportunities for rural America by delivering premier telecommunications and technology in Missouri. In tune with the President's Interagency Task Force on Agriculture and Rural Prosperity, Chariton Valley uses fiber facilities to expand e-Connectivity to students, families, farmers, businesses, medical facilities, and communities every day. We are dedicated to improving quality of life and increasing access to a global economy at an affordable price over a reliable network.
Go Further…Go Faster…Go Fiber!
Executive Team
Ryan Johnson
Chief Executive Officer & President
Click here for our Board of Directors.
Atlanta (239)
Bevier (773)
Bosworth (534)
Bucklin (695)
Bynumville (222)
Callao (768)
Clifton Hill (261)
Dewitt (549)
Ethel (486)
Excello (775)
Forest Green (481)
Hale (565)
Huntsville (277)
Jacksonville (295)
New Boston (689)
New Cambria (226)
Prairie Hill (777)
Salisbury (388)
Summary
Chariton Valley (hereinafter "CV") values the privacy of our customers.  Full disclosure of how we collect and use this information is not only a right assigned to our customers by law, but also something we provide as responsible proprietors of such information.
CV will only collect the minimum amount of information needed to effectively deliver or market services to our customers.  CV will only share data in a limited fashion and only when it directly supports our ability to deliver products and inform customers about products, or when required by law.
This document discloses what private information we collect, how we use it, and how we share it.  If you have questions about this document, please call 660.395.9000 and speak with a Customer Service Representative.
Information Collected
CV collects information from several sources, listed below.
Information our customers give us to do business with CV.

Examples include name, address, email address, billing information, services ordered, trouble tickets, account comments, and so forth.

This is information is used to deliver products and inform customers about products and services.  This information is generally retained as long as you are a customer and typically an additional seven years.

Summary information our systems generate so we can bill for services.

This information typically includes several different types of usage data, for example, logs of phone calls placed, tally of data usage.

This information is used for billing.

This information is typically stored for 7 years.  Much of this information is stored in summary format.

Detailed information our systems automatically generate to log technical issues.

This information is typically technical in nature but also includes phone numbers called, IP addresses, details of several different communications protocols, and usage of internet bandwidth.

This information is used to help troubleshoot customer equipment troubles.

This data is typically kept for less than 1 week.

Information to improve customer service.

CV records phone calls to our customer service center.  

These calls are periodically reviewed and used to improve our operations.

Calls are typically kept for 1 week.

Information we manually collect to troubleshoot customer trouble.

This information includes IP addresses, call data, call logs, IP network flows and other technical information.

This data is targeted to our efforts to diagnose specific service requests.

This data is typically kept only as long as required to troubleshoot a specific customer trouble.
Information Shared
CV shares subsets of private information with select business partners as required for those partners to perform specific tasks such as installation, training, and informing customers about products.  CV shares private information with technology partners that assist us with network implementation.  CV will share private information with law enforcement agencies when required to do so by law and when compelled to do so by a subpoena.
Our Commitments to your Privacy
CV will never sell your personal information.




CV will never, under any circumstances, sell your private information to any company for any reason.

CV only shares your information with trusted partners for specific business purposes.  CV will only share your information when doing so helps us improve our services, provide our services, and inform customers about our services.  We will never give away your information for free or provide  your information to a company that does not specifically need it.

CV trains employees to protect customer privacy.




CV trains all new employees on customer privacy when hired and conducts further training on an annual basis.
Your Access to Shared Information
Should you request it, CV will endeavor to disclose to you what private information we have collected and how we are using it.  To make this request please call 660.395.9000 and speak with a Customer Service Representative.
Opting out of Information Sharing
When customers acquire service they are given the opportunity to opt out of receiving information about products.  If a customer desires to change their opt out status, they should call 660.395.9000 and make the request to a Customer Service Representative.
Last Edited on 2016-09-12
CV reserves the right to modify this policy at any time.
I am interested in being on the Chariton Valley Telephone Corporation Board of Directors. How do I apply?
According to the Bylaws, it shall be the duty of the Board of Directors to appoint a nominating committee of five cooperative members. The nominating committee shall select nominees from the area vacated for which a board member is to be elected. Nominations may also be made by a petition signed by one hundred (100) or more members. Board members serve 3 year terms and available directorships rotate through the geographic regions: Northwestern area, Northeastern area, Southwestern area, South central area, and the Southeastern area. No person shall be eligible to become a Director who (a) is not a member, (b) who does not maintain primary residence in the area which it serves, (c) whose account has not been in good standing for at least 1 year prior to nomination, or (d) has been an employee in the preceding 24 months. Interested members who are eligible should submit an online application to the nominations committee and complete an online questionnaire when a Directorship is open for election in their geographic region.
When is the Annual Meeting held?
The Board shall determine the date, time and location for all meetings of the members. Written notice shall be rendered no less than 20 or more than 60 days before the date, time, and location set by the Board. The annual meeting is typically held in Macon during October, but is subject to change at the discretion of the Board.  Annual Meeting is live-streamed thru Facebook for membership.
If I am unable to make it to the Annual Meeting, can I still vote?
Yes.  Electronic voting allows 100% of members an opportunity to vote from the convenience of their own homes without having to travel and has proven to be successful in increasing member participation. Since members can vote any time during the two week period, as opposed to a short three hour window, it furthers the opportunity for every member to be a part of the election process.
How does electronic voting work?
Every member will receive a letter from Survey & Ballot Systems (SBS), our election service provider, with instructions to follow and credentials (username and password) needed to vote.
• Members with a valid email on file with Chariton Valley will also receive this information by email.
• To protect the integrity of the election, Chariton Valley employees may not have any knowledge of members' usernames or passwords. Therefore, we can only assist with accessing the SBS website. Any further assistance is not permitted.
Why did Chariton Valley opt to have an election provider run the election?
The foundation of any successful cooperative is member trust. Failing to provide unbiased elections can leave Chariton Valley open to member scrutiny, negative publicity and even lawsuits. Survey & Ballot Systems is Chariton Valley's election provider. SBS ensures elections are fair, transparent, efficient and effective.
What are Capital Credits?
A cooperative does not earn profits in the sense that other businesses do. Any telephone operating profits are allocated to members in the form of capital credits.
How do Capital Credits work?
Your share of capital credits (profits) is based on patronage. Patronage is the amount of money you spend in services with the Chariton Valley Family of Companies (as long as it is on one bill.) The more business you do in a given year, the greater the share of profits allocated to your capital credit account.
How does a member know the amount of their capital credits?
Each member has a separate capital credit account, which represents the member's ownership in the Cooperative. When capital credits are allocated at the end of a year, all members who received capital credits will receive an allocation statement showing their current year's allocation and the outstanding balance of all the years' ownership. You may also contact customer service at any time to inquire.
How are Capital Credits disbursed?
Your elected Board of Directors determines the amount of retirement (capital credits paid) annually, based on the financial condition of the Cooperative and other considerations. Each year the Board of Directors determines whether the co-op's financial position permits the return, or retirement, of Capital Credits and, if so, what amount of Capital Credits will be retired. Capital Credit distributions are usually made in September. If you are an active, current customer your distribution will appear on your monthly invoice as a credit on your account. Otherwise, a check will be mailed.
What happens to a member's Capital Credits if they move out of CVTC service area?
A member who terminates service no longer receives additional Capital Credit allocations. The balance in the member's Capital Credit account is maintained until it is retired in full. It is very important for former members, who are still owners of the cooperative, to inform our office of any changes in their mailing address and contact information.
What happens to a member's Capital Credits if the member dies?
Capital Credits in the member's account belong to the member's estate unless there is a "Transfer on Death" on file with Chariton Valley. To assist the member's heirs in closing the estate, Chariton Valley offers a special Capital Credit retirement of the outstanding balance of the deceased member's Capital Credit account, at a discount.
Are capital credit disbursements taxable?
Annual capital credit disbursements are generally not taxable on individual tax returns. However, heirs receiving a discounted, full retirement of an estate's capital credits may have a portion that is taxable. A 1099-MISC will be issued if the taxable income earned is over $600. We suggest you seek the advice of a tax professional for any specific questions.
How may I contact Chariton Valley Telephone Company to speak with someone about this matter?
If you have questions regarding Capital Credits, please contact us at (660) 388-9930 or (800) 769-8731. Any customer service representative can help you.