If you're still receiving paper bills and making monthly payments via mail, this article is for you. Spend a few minutes reading this information, and you could spend less money and time paying your bills. Plus, you'll learn about the other benefits of going paperless.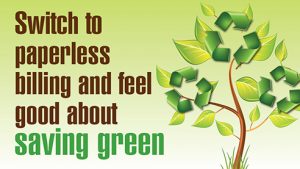 Saves Money
Most bills don't come with postage-paid envelopes, which means you're spending $0.55 each time you mail a payment. That's $6.60 annually for one bill to be paid 12 times per year. No big deal, right? Well, it adds up. Let's say you have 12 bills per month, each needing a $0.55 stamp to mail. Now, your monthly mailing total is $6.60. Over the course of a year, that's $79.20. And if you own a business, you're spending way more than that. And let's not forget about the expense of purchasing checks. You're not going to get rich saving on postage or checks, but every little bit of savings helps.
Saves Time and Provides Convenience
You can easily pay your bills anytime from anywhere with an internet connection, which is convenient and saves time. There's less mail to go through, no checks to write, no paper statements to file or discard and no late payments.
According to the most recent Household Diary Study financed by the US Postal Service and located on the website of the Postal Regulatory Commission, between 2017 and 2019, there was over an 11% drop in transaction mail households received and sent. The decrease in transaction mail was attributed to the adoption of digital options.
Helps Prevent Identity Theft
Going paperless can help protect you against identity theft. Think about it. You pay your paper bills with a check or credit card number via mail. Mail thieves can steal your identity by stealing the check containing your personal information or access your credit card account by obtaining the number. If there's no paper bill, there's no mailed payment, making it a bit more challenging for thieves to get your private data.
Helps the Environment
Paper negatively impacts the environment with it contributing to more than a quarter of landfill waste. Substantial amounts of natural resources, such as trees and water, are used in its development, also causing a variety of environmental concerns.
If we cut back on the paper we use and limit the amount of paper we receive, collectively, we can make a significant difference.
Minimizes Clutter
Less mail equates to less clutter. If you save your paper bills for recordkeeping purposes, you know how much they accumulate. What can start off as a neat and organized system, can soon crumble into chaos. Ultimately, you have to thin the clutter and take time to properly dispose of them or the clutter can become overwhelming.
Chariton Valley offers straightforward paperless billing to benefit the environment and help simplify and uncomplicate your bill paying experience. To switch to paperless billing, contact us or access your account online and follow the steps below:
Select Bill Pay at the top of any page
Enter your Username and Password
Select Manage Your Settings
Select General
Click Web bill only
Click Change Preference
Switching to paperless billing may just make your life a little easier and less stressful. And helping the environment, well, that's an added bonus you can feel good about!